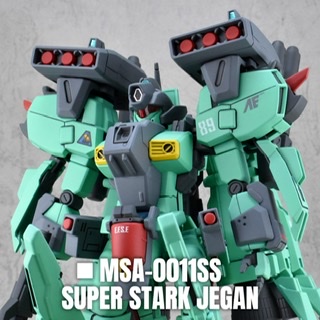 Custom build HGUC Super Stark Jegan: images, modeler's info
From the Modeler:
I mixed Jegan parts with HGUC Ex-S Gundam to make an original Jegan type.
The head and toes are from Jegan Blastmaster, and the arm and shoulder missile pods are from Stark Jegan. The mount latch for the shoulder missile pod and the waist missile pod are self-made.
The body of Ex-S has the neck extended by 1 mm, the hip joint axis position lowered by about 2 mm, and the proportions adjusted.
Color recipe
Body green: Emerald green (base turquoise green)
Body blue: Medium blue
Body yellow: RLM yellow
Body red: RLM red
Armored Gray: Neutral Gray
Joint gray: engine gray
Rifle gray: black gray
Work by ユーフォリア
aka: EUFORIA07 on Twitter