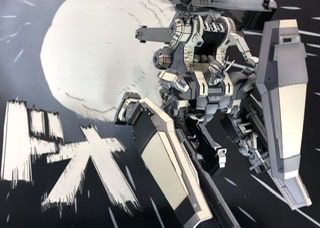 Scene reproduced in 1/144 scale: Full Armor Gundam Thunderbolt Ver. (Images, info work)
From the Modeler:
The original version of Thunderbolt Full Armor Gundam's sortie scene has been reproduced in a cartoon style!
There are 4 shields, but since there were too many parts to hide the paint, I dared to remove one.
This scene will appear in the first volume of the original version, so please check the original as well.
This is the original version of the scene.
I decide the approximate position and look at the background and the balance of the characters.
By the way, the shield arm on the right shoulder is replaced with an aluminum wire. If you don't miss it like this, your face won't appear in the play.
I checked the size feeling many times
This is the completed form of Doo. I wrote it in a cartoon style. I had a hard time because the lines were twisted and I couldn't feel the speed, but after trial and error, I managed to complete it
The background was created by masking on a 0.2mm plastic plate.
It is a background rendering.
Arrange the completed items and complete the sortie scene!
Work by: ひろ
aka: here below the nick on Twitter.