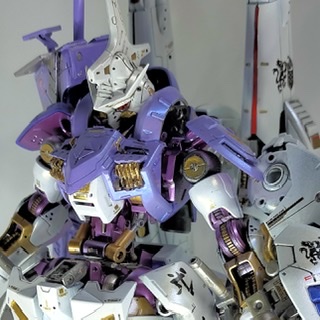 Custom build Kimaris Trooper 2 (Two): images, info
From the Modeler:
We created the "ideal Kimaris" by mixing Grimgerde and MUJI Kimaris mainly with the Kimaris Trooper.
As an image, the MS made as a symbol of Gjallarhorn's justice as a substitute for Bael, which was sealed after the turmoil of McGillis, the armor and parts of Vidar became tattered and unusable, and the lower body frame was also remodeled into a Valkyrie frame
Mainly white, purple, and silver were painted with an airbrush, gold was enamel, and the back of the armor was partially painted with enamel silver.
Three colors of pearl paint are sprayed on the entire body, and Gaia Notes foil decals are pasted to give a clear and glossy finish.
The detachable booster, Kimaris, has been remodeled.
It's hard to see because it shines partly when exposed to black light, but I also painted the foot pipes with luminous paint.
The sword diverted from Grimgerde on both sides uses the decal of the Baldwin family coat of arms.
After the basic painting, it took a great time to paint with a brush such as gold from here.
I lost the opening and closing parts of the chest, so I scratched the replacement and I think it was better than usual.
There is also a lance for mobile armor, but as you can see, it is too long.
Work by: ウワンテ