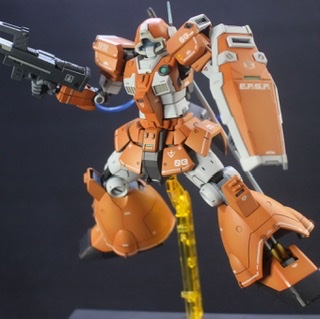 Custom build HGUC RGM-08D DO-GM ドッジム images, full info from the Modeler
From the Modeler:
RGM-08D DO-GM
It was manufactured under the settings of a prototype of the next-generation MS created based on the Dom captured by the Federal Army.
Produced aiming for a design that seems to be really in the MS lineage of MSD.
I think it looks like Dom, but it's an advanced version of the GM.
The main armament is the original high power beam spray gun. With the setting that energy is supplied from the energy pack attached to the back. The shield is remodeled from GM's G frame of Shokugan.
Front and exhibition base
The prototype is orange
The base is made by cutting and pasting a 1.5mm plastic plate.
The plate is made by combining wave triangle bars.
back
The original high power beam spray gun is supplied from this energy pack through a blue cable.
* The energy pack is made from the MG Gundam mk-2 bazooka pack with a wide plastic plate.
This is an image in the middle of production.
It is a mixing of Dom prototype experimental machine and GM Intercept Custom. The shoulders, legs, and weapons are processed from MG's GM Commando.
It may seem that they are just stuck together, but the connection points in various places required considerable processing and were quite difficult.
The head is based on the GM, and the shape is adjusted with putty by forcibly attaching Dom's mono eye cover to it.
As I said, it 's a federal MS.
RGM-08DR
It is a high mobility type for space equipped with a beam bazooka and a backpack made as a bonus.
back
As you may have noticed, the MG GM Command backpack came in unexpectedly, so I'm using it as it is.
Work by sei-the-Rock
aka: seitheRock1 (Twitter account)