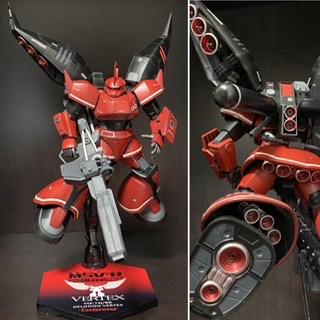 Gelgoog Vertex Testarossa using P-Bandai HGUC Regelgu: images, info
From the Modeler:
I made Gelgoog Vertex Testarossa using P-Bandai HGUC Regelgu.
The Gelgoog body has been adjusted for balance, such as extending the abdomen, narrowing the shoulder width, and expanding the hip joint, and adding details to the whole.
In addition to moving the binder to the backpack, we are increasing the vernier inside the skirt and increasing the size of the propellant tank.
Swarovski-style stones are used for the eyes, and the white lines are masked and painted.
Beam Bazooka is from HG Dom. I filled the nose hole once and reopened it small.
Bolden Arms used for the binder connection. After this, another joint is added.
The longer propellant tank uses a 100-yen set of three mechanical pencil shafts.
Detail up with streaks and plastic chips. The additional vernier in the buckler shield and skirt has been relocated from the mass-produced Gelgoog.
We are particular about the color of red, and after brightening and darkening the base with monotone, we blow red that is a mixture of shine red and maroon.
Work by ピロスタ
aka: pirostar (Twitter account)