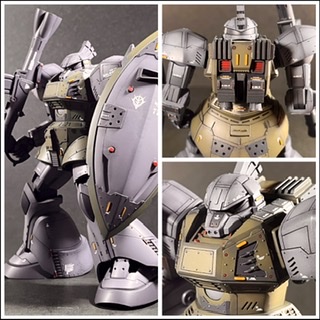 black's HGUC 1/144 Gelgoog remodeled: many images, credits, info
HG 1/144 Gelgoog
It was created by repairing and remodeling various places.
It was created with the theme of heat press, rivet, streak, plastic van work.
First work in 2023! It took some time, but I am satisfied with the result!
[Modification point]
Head → streaks, rivets, mono-eye change I used the goods of Haikyu Parts.
Chest → plastic plate volume up, armor added, design change mainly centering on strips and rivets.
The waist → waist is made of plastic board, and the straight line gives a strong impression to the rounded body.
Shoulders → streaks, details added with rivets, triangular part on the side remade with plastic board.
Arm → Sujibori added
Backpack → Created from scratch.
Leg → Cut once to make a step. Add a plastic board and streaks.
Decal → use water transfer decal
Color → Toning pure black on base Gaia Mesafu Heavy
Main color → Body Gaia dark green, Gray is a Creos color toned to your liking.
TOP coat → Gaia clear (matte)
Work by black
@ black57775 on Twitter and on Instagram