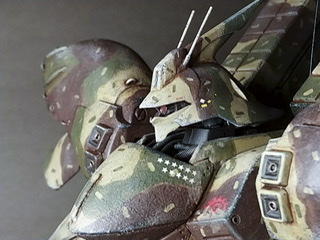 Kazuhisa Kondō HGUC Sazabi ground battle type custom. Images, full info
From the Modeler:
I transplanted MG's waist to HG's Sazabi to make it a ground battle type Sazabi.
In addition to the waist, the chest, shoulders, lower arms, knees, ankles, etc. have been reshaped.
The machine gun is a modified toy with a scale of about 1/8.
There are 2 Sturm Faust on the back of the shield.
It is removable because it is equipped with neodymium.
Taking advantage of the large MG rear armor, the stays of auxiliary equipment are treated.
I also used the thicker MG for the fuel tank.
I think it's for the ground and it's a non-NT pilot, so there's no funnel.
I put a micro missile launcher instead.
The highlight is the LED.
I stretched the head about 6 mm back and forth.
It's hard to see, but it has a mono-eye protection screen.
I did my best to shape it like MG42.
I didn't have a magazine, so I made one. There are also bullets so that you can glance at it.
It started when I salvaged the junk MG that was sold at Hard Off.
It became a good salt plum to replace the parts with the unassembled HG Sazabi and play with it, so I should have finished painting it as it is.
It's okay to do it, but the putty is piled up from one end to the other, and it's not easy at all.
Forgot to take the finished product or the back of the head.
Blow the suff and finish the work.
Work by: うっかり
aka: kunimotoke (Twitter account)