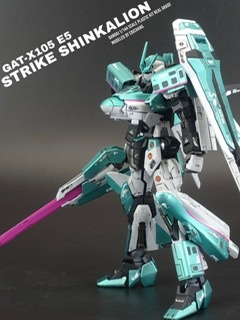 Custom build RG GAT-X105E5 Strike Shinkalion: full images, wip, info
From the Modeler:
Based on the RG Ale Strike, Plarail Advance was chopped and attached to create something like Shinkalion.
The Hayabusa part is chopped Hayabusa for E5 of Plarail Advance (currently out of print).
I bought it and mixed it, but it's a good size.
At first glance, it is Shinkalion, but the base is RG Ale Strike, the head is Quanta, the ear part is Strike, and the horn is Quanta and Strike.
Shields on the shoulders are common, but is it okay to have a sharp silhouette? I think.
The wings on the back and shoulders are arranged with the wings of the Aile striker with the motif of Shinkalion. The base is the knee joint of Qanta
You can see that the renovation start and strike are the base.
It has taken shape to some extent.
It's almost in shape, and from here on, it's finely packed.
We are proceeding with the packing work.
The Creos spot color is Hayabusa color for painting. Tokiwa Green is a very nice color!
Proportion repair, abdomen 2mm, legs 2mm extended
This is the first painting, and we are painting separately from here.
Work by: ebichang
ebichang_RNC7 (on Twitter)