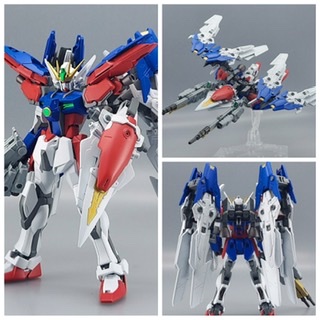 Entry Grade 1/144 GAT-X105Z + XXXP-00W Wing Strike Gundam ZERO custom build: images, info and credits
GAT-X105Z + XXXP-00W Wing Strike Gundam ZERO
Using 30MM parts etc. for EG Strike Gundam, I created an image of Wing Zero for TV
XXXP-00W Wing striker
The wing unit on the back, which is a feature of the TV version of Wing Zero, was created as a striker pack with 30MM parts (some Gunpla parts are used).
Since it uses a 30MM joint, it can be deployed as in the play.
Gemini Meteor Double Ultra High Energy Double Row Phase Rifle
This also uses 30MM parts to create an armor that imitates a twin buster rifle.
E-pack type is adopted as the armed name and energy source so that it does not feel strange even in the SEED world.
3mm of neodymium magnet of Haikyu parts is used for rifle connection
In addition, the nose is armed, the waist is inverted, and the shoulder armor is closed so that the neo-bird form can be reproduced.
This is the first photo of the production
At this time, I didn't intend to modify the main body so much, but in the end I am processing it to bring the head, chest, and shoulders closer to Wing Zero.
Painting is done from Creos water-based suff to Creos water-based hobby color by airbrush painting.
It is in a state of being roughly painted and temporarily assembled.
I am adding small parts from here with a brush
Work by 変なオンジさん
@kenjiodyssey on Twitter