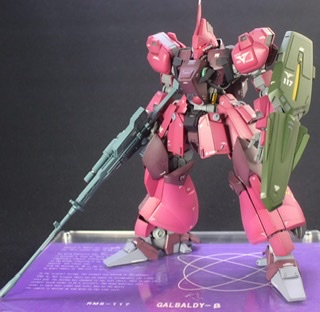 Galbaldy b / Graze: mixing build in 1/100 scale. Info, images
From the Modeler:
Made in 2017
Scale 1/100
RMS-117 Galbaldy b
It is a mixing work of the old kit 1/100 GALBALDY b and the iron-blood series Graze (McGillis machine).
Upper body UP
This work was made for the circle exhibition at the 2017 Shizuoka Hobby Show.
The concept was to line up the Titans MS, but I remember making it desperately to get along with the terrifying senior modelers in the circle.
Also, I think that it was a work with a quite novel idea at that time, mixing the old kit and the kit of the latest series at that time, and at that time everyone was still waiting for the remake of the Galbaldy b kit. I got a lot of attention.
It is a good memory now that I managed to complete it under the intense pressure that the production concept was covered with the active Orazaku Champ.
From diagonally above
If you look at it now, there are a lot of miscellaneous points, but I think it took about two months.
I think I cut and pasted the old kit and adjusted the balance while covering it with the Graze frame.
The back is like this.
The backpack of the old kit is enlarged by attaching a junk to the bottom.
Sabers of builder's parts are attached to the left and right.
From the right lick
How did you make this rifle? I forgot···.
But I think that a long range rifle looks good on Galbaldy
In the middle of production
Ah, did the rifle have this structure?
But I can't remember what the parts are … It's just an image of mixing.
Work by: sei-the-Rock
seitheRock1 on Twitter