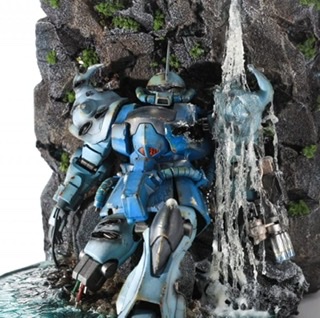 Whereabouts of the battle: MG Diorama. Full info from the Modeler and images
From the Modeler:
When I was in junior high school, I created Gouf Custom as a diorama work, which I liked just because I liked blue.
In the original animation, the abdomen was cut off, but this time I tried to make it a scene that I think is cool.
The famous kit has been resold, so I decided to make it.
This time, I also took pictures of the solvents and materials used.
Blue styrol? Was cut appropriately and painted with acrylic paint.
Apply solid black and drive in gray, and after drying, use bond water to express small sponge algae.
Epoxy resin is used for water expression. It was my first time to use it, but it was sweet
The inner frame was cool so I made it glaring so that the exterior was damaged and the inside could be seen
In the expression of the waterfall, Tegs is glued to some extent and fleshed out with gel medium.
I made a fictitious setting that is convenient so that the inner frame and armed metal do not rust, and I made it glaring and added a little blue.
For the joints, cut the wiring with the excess lead wire.
It was a very difficult resin for those who are not used to it, but it was a good study.
Commercially available silicon molds are expensive and not bulky, so I cut a plastic bucket at a home improvement store and used it. I intended to fill the gap with the base with a glue gun, but it leaked sweetly. You can peel it off later, so I think it's a good idea to put it on as carefully as possible.
Work by: HRK
Twitter: hrk520hrk