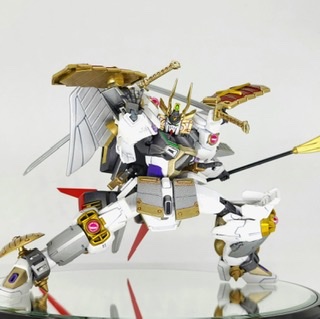 Mixing build HGBD:R Musha Justice Knight: images, info
From the Modeler:
The knight Gunpla is turned into a warrior with parts from Sengoku Astray and SD warriors.
I searched for points such as the head and front armor that would look like a samurai if modified, and mixed them.
The backpack was made by combining Hayabusa and Aile Striker.
If you like SD warriors, you will notice the flow of dual wield → Musha Gundam → Hayabusa.
Work by: ダイスケ
aka: dt0822a on Twitter