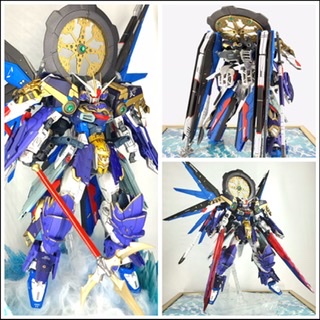 Mixing Build MG Musha Freedom Gundam: images, info and credits
based on MG Freedom ver.2.
I used 30MM series Sengoku armor for
arms and legs.
The unused 3mm hole in the 30MM part was filled with metal beads.
The green jewels on the shoulders are the key points of your own samurai work.
The striker pack uses the wings of Full Mechanics 1/100 Freedom for the aile striker.
A part of the tactical arms is attached to the rear skirt as if it were a stabilizer.
[High Mobility Air Battle (High Matte) Mode]
・ Speaking of freedom, this form
・ The halo on the back is made from the first BB Warrior, Musha Gundam, with the weapons of the Iron-Blooded Series.
[Armed Part 1]
・ The Japanese sword has a dual wield style and a reverse hand, creating a SEED feeling
[Armed Part 2]
・ The red spear is the strongest proof
[Armed Participation]
・ It is no exaggeration to say that Tactical Arms was attached to the rear because i wanted to have a sword arm.
[Armed No. 4]
・ I thought of something like a connected beam saber in the works
Work by ダイスケ
@dt0822a on Twitter