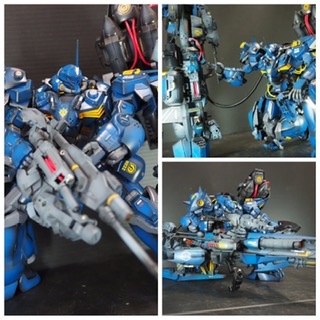 Custom build HGUC Messer Type-18E: full info, images
From the Modeler:
This is an original Kampfer series. This time, I modified the Messer to look like Kampfer and finished it as a medium- and long-range support aircraft.
The messer itself is a large Mecha, it is impressive, but the armor is made thicker, boosters are added and cable wiring is added to set it as a high output MS. I finished it in a form that gives the atmosphere of Kampfer.
Speaking of Kampfer, it is a MS with abundant weapons. This time, we have prepared weapons as a medium- and long-range support. (It's a secret that I just wanted to make a huge weapon as the main part of this time)
Fully equipped (suitable for medium range support)
Medium-range rifle Leg missile pot booster Large generator on the back (to extend basic serious operating time when not equipped with ultra-distance equipment)
Mainly as a support machine, but even if it is brought into close combat, it is possible to respond flexibly because the rifle has a built-in saber.
The rifle can be mounted on the waist.
Since a booster is installed on the back of the missile pot on the foot, it not only provides additional armament but also acts as a propeller even after the ammunition is exhausted, so it also assists the movement of this heavy aircraft.
This time's main armament:
Super large long range shooting weapon "Garndiva"
The name is taken from the bow and arrow that appears in Indian mythology.
Large armament with a length that exceeds the main body.
Since energy can be supplied directly from a large generator carried on the back, it has a high power and a very long range.
From the time I saw Messer, I was convinced that "this guy can be Kampfer", and it was this Messer (Kampfer) that I couldn't stand the man's desire to put a big armament on a large Mecha.
I added an exterior and made it so that when it was colored, it would naturally create a Kampfer-like form.
Compare your modified messer with a regular messer
When I put them side by side, it was quite different, and I felt good that I had done it myself. Lol
Pick up an ultra-range gun
The rest is off-shot!
The messer itself is a very good kit, so please try to make your own messer 😋
The compatibility between Messer and Kampfer was outstanding!
Work by: ざまし(ZAMASHI)
aka: zamashi726 on Twitter