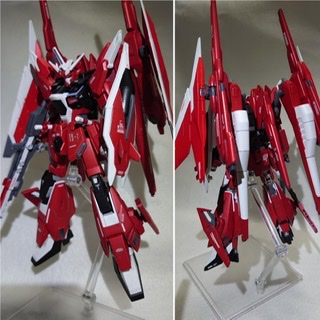 Custom build HGCE ZGMF-X19A-2 Saber Justice: many images, info
From the Modeler:
I tried mixing and remodeling Infinite Justice!
Beam saber is equipped with the same thing as Infinite Justice
"High energy long beam rifle" which developed the lupus beam rifle for a long distance
A beam saber generator is also attached to the bottom of the muzzle
Beam boomerang "Brave Edge beam boomerang" suspended on both legs
Can be used as a beam sword by fixing the beam
Equipped with a second-generation dragoon system based on the Shiranui pack on the back and Saber beam cannon
Full burst mode like Strike Freedom using multi-lock-on system is also possible
A variable mechanism is also incorporated from Saber's battle data, and it is also good at fighting in the high speed range.
It is a photograph before painting
This time I also tried the first streak carving
It's nice that the amount of details increases
Since the arm of the beam cannon was short if it remained Saber, I made a new one with junk parts and plastic rods.
Work by: 銀刀