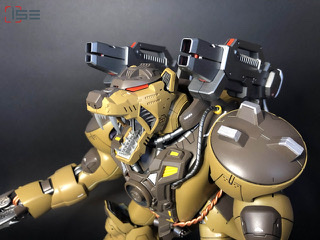 Mixing build: MG Grizzly Bear Fighter. Images, info
From the Modeler:
Hello. I am sending you my latest work. thanks and good job
MODEL TITLE: "Grizzly Bear Fighter"
MODIFICATION TYPE: Custom color scheme; Kitbash; Scratch built parts; Added details; Custom decal; Custom equipment;.
KIT USED: Zoids Saber Tiger; MG Z'Gok; MG Acguy; 1/100 Gusion/G Rebake; FigRise Wargreymon.
Work by: Ise