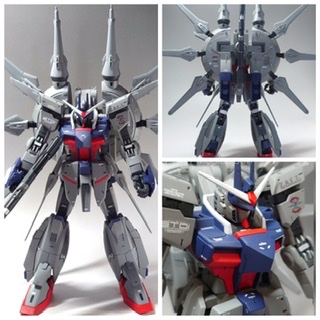 Mixing Build MG 1/100 Legend Gundam: images, info and credits
This work is a 1/100 Legend Gundam modified and remodeled into MG using MG Gundam RX-78-2 ver3.0.
Because it is a mixing work, I made it while keeping a balance so as not to spoil the image of the legend.
The amount of details is increased by coloring the fine details of the backpack.
The color is adjusted so that it doesn't look too dark, giving it a dark hero-like impression.
A plastic plate is attached to the lower part of the head to give it a sharper impression, giving it a tighter look.
Since the shoulder armor line was similar on both arms, the MG 1/100 RX-78-2 Gundam ver3.0 with a simple design was used, and the upper part of the legendary shoulder armor was transplanted to the base frame and the lower half of the armor. The armor of the forearm elbow is cut out from the legend and transplanted.
In addition, the armor on the back of the hand is processed according to the Legend Gundam, and the joint part is mixed by transplanting the ver3.0 to the Legend.
This also uses ver3.0 according to the arm.
The lower part of the knee is processed and used from the legendary one.
In addition, i have added streak carving to match the details of the thick peach to increase the amount of details.
Work by @Mirialdo723 (Twitter)