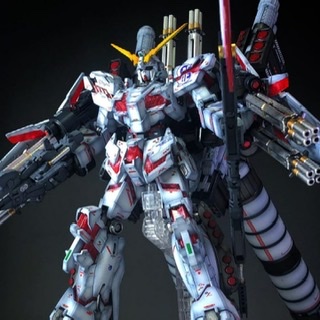 meo_pla's improved HGUC Full Armor Unicorn Gundam Destroy Mode: info, images, close-ups
From the Modeler:
I've made a lot of HG so far, but it was a top class complexity lol
It is manufactured with all paint. The armor is matte and the psycho frame is glossy.
Processed with a plastic plate on a large propellant tank. Other than that, it is almost straight.
We mainly use multiple decals for Gundam decal "RG Unicorn Gundam".
Beam javelin is also glossy. Good color development is obtained because the gradation is applied and the fluorescent paint is also mixed. The cracked decal on the left shoulder is also an appealing point.
The white armor part is a blue system start-up.
Psycho frame is finished with gradation using clear paint and pure color paint. Fine particles are placed using a technique called sputtering. I've done it several times between the layers to give it depth.
I want to get rid of anime-like luminescence expression by painting without relying on LEDs.
We will continue to pursue it.
Since the propellant tank was flat, I cut a 3mm plastic plate into thin pieces and wrapped it around. A car model mesh decal is used in the center of the tank on the left side of the photo.
At the Shield Festival, we are making three pieces of the same thing. .. ..
With the HG unicorn mode that I made just before.
The transformation gimmick, which is the biggest selling point of unicorns, does not exist in HG, but I like it because it is well made instead.
I would like to continue pursuing painting that expresses light emission without relying on LEDs.
Work by: meo_pla めおぷら
Twitter account: meo_pla
Instagram: meoto_gun_pla