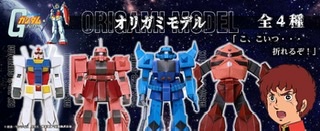 Four types of Gundam Origami Models are now on sale: full info and images
From Sunstar Stationery's "Origami Model" series, all four types of Gundam, Char's Zaku, Gouf, and Char's Z'Gok are now on sale.
The "Origami Model" is an origami series developed by "Toyo", which has a good reputation in the "Educational Origami" series that has been popular for over 60 years. You can enjoy the mobile suit of "Mobile Suit Gundam" with origami, and when assembled and completed, you can decorate it firmly and independently.
"Mobile Suit Gundam" Origami model product lineup
機動戦士ガンダム オリガミモデル 商品ラインナップ
Origami model Gundam
Price: 1,580 yen (excluding tax)
Size: 30 x 30 cm
Origami model Char's Zaku
Price: 1,580 yen (excluding tax)
Size: 30 x 30 cm
Origami model Gouf
Price: 1,580 yen (excluding tax)
Size: 30 x 30 cm
Origami model Char's Z'Gok
Price: 1,580 yen (excluding tax)
Size: 30 x 30 cm
http://www.kidstoyo.co.jp