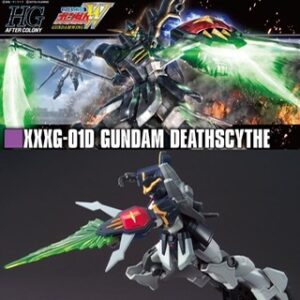 HGAC 1/144 Gundam Deathscythe will be released on May 22, 2021. Box Art, info and new official images
Description of item
From "Mobile Suit Gundam Wing", the TV version of "Gundam Deathscythe " is three-dimensionalized on HG 1/144 scale!
Natural poses are possible with the slide gimmick of the shoulder armor and knee armor.
Two types of Beam Scythe effects are included.
The blade parts of the Buster Shield are linked to the left and right. Reproduce the beam injection state by attaching clear parts.
Beam Scythe Parts that can reproduce the stored state are included. Can be attached to the rear armor.
accessories
Beam Scythe x 1
Beam Scythe storage state reproduction parts x 1
Buster shield x 1 type
Effect parts (for Beam Scythe) x 2 types
Effect parts (for Buster Shield) x 1
Foil sticker x 1
Price 1,650 yen (tax 10% included)