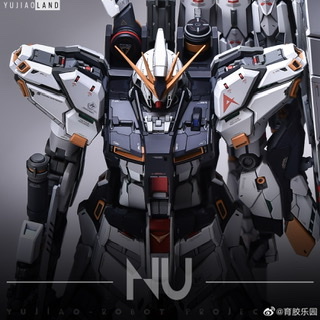 MG 1/100 Nu Gundam Resin Kit by YUJIAOLAND: full images, info
YUJIAOLAND May 16 New product announcement
The frame uses MG HI-ν Gundam Ver.ka instead of ν Gundam.
Compared to the previous work HI-ν Gundam, parts are reduced by about 100 backpacks, masking work is simplified by 50%,
Achieves a significant reduction in the amount of work compared to HI-Nu Gundam.
This time it is possible to stand on its own without a stand.
About the funnel, it is a kit made of plastic model like the previous work,
In addition, metal parts are attached to the contents, eliminating extra expenses.
Contents:
1, Garage kit set (main body + backpack + weapon + shield)
2, Funnel (Plastic model)
3, water slide decals
4, instruction manual
5, metal vernier
6, metal mold parts
7, Nu Gundam limited packaging
Product specifications may change without prior notice by the manufacturer.
The specifications at the time of purchase are correct for accessories, parts composition, etc.
The content introduced in this article is the information at the time of update.