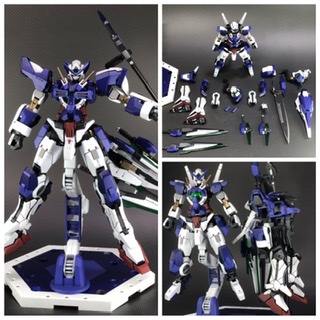 Mixing build HG GRACES EXIA (Core Exia and Seven Sword Armor): images, info
mixing my favorite Exia and Core Gundam
Exia's knees are transplanted to the thin and slightly unreliable shins of Core Gundam, and his legs are stretched a little to improve the style.
The fuselage is transplanted from Exia while leaving the docking mechanism of Core Gundam.
The head is made of Exia as it is (the ears are made of dark matter).
Armed with GN beam saber x 4 only in close proximity.
When I attached it to an airplane as it was, it became a terrible breaststroke, so I made a mannequin for armor with the image of decorating a knight's armor.
The blade of GN Sword was not enough for HG, so I remade it with plastic board.
After all GN sword is the coolest and irresistible.
GN knife x 2 equipped on the Seven Swords unit
The blade has been stripped from his GN Blade of MG.
GN Blade x 2
This blade is also torn off from MG and cut in half.
The chest of Core Gundam is carved and the chest of Exia is forcibly attached.
At first I was planning to go with just Exia, but I wasn't satisfied halfway through, so after all Exia must be the concept Seven Swords! That's why I changed the route.
And this is the shape that I arrived at.
Blades and knives are easy crafts like this.
By the way, this is a crab breaststroke.
Looking at the build system, I think the Gunpla in the palm of your hand is really good.
The pedestal is easy to make with only the color painted.
Work by 山氏
yamasi0628 on Twitter
yamasi_mg on Instagram