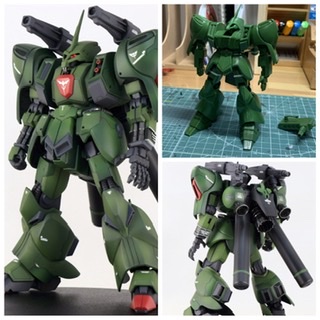 Old Kit 1/144 AMX-101 Galluss J remodeled, improved: images, info and credits
Based on the old Kit Galluss J, it was mixed with HG Schuzrum Galluss and produced as a sleeved specification in a modern style.
The coloring is a calm green that seems to be Zeon…
The whole body is detailed with streaks as the main color, and the main color is painted in two colors of green.
Mixing has improved the style, but in addition there is an additional 2mm extension on the thighs.
Monoeye uses H Eyes.
I wanted the chest to be thicker, so I increased the width of the torso chest parts by 1mm in the forward direction.
The backpack is a mixture of RG Sazabi and Galluss, and the large propeller tank gives it a UC0096 generation feel.
Work by あかまり@akamari00 (on Twitter and Instagram)