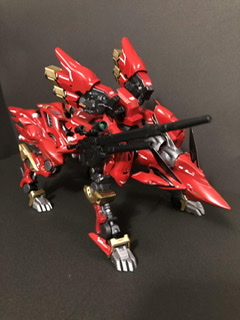 Custom Build HGUC 1/144 Sinanju Volpe: images, info
This time I tried to remodel Sinanju.
This MS is the body of Sinanju Volpe.
Volpe means fox in Italian.
Armed with a rifle on the right shoulder and a scratch attack.
The original Sinanju parts are rearranged using almost all parts except the head parts.
From behind the body
I like the thruster and tail that extends from where it hits Sinanju's ankle.
If you look closely, there are thrusters in various parts of the MS, so it seems that it can accelerate and turn sharply.
Equipped with a combined offensive and defensive shield system and a free round shield.
I was most worried about how to color the shield and decals, and it took me a long time
Lower the center of gravity, deploy the barrel forward and prepare for shooting.
Since it is a quadrupedal walk, it seems to be stable.
I tried to make it feel like a beam rifle on the shoulder and a full burst that I added in a hurry when shooting, that is, after completion.
Deploy the beam tomahawk in the free round shield to the left and right for close combat.
The pose I wanted to do when I came up with Sinanju Volpe.
I was surprised that It stood in a fairly well-balanced manner with a thin scaffold and three legs with one leg raised.
The base of the foot is a ball joint, so it is quite flexible.
I thought this was good because I aimed for a fox-like supple feeling rather than a wolf-like one.
For the first time, I put so many water slide decals on it.
I didn't use Sinanju's, so I'm trying to figure out where to put it, but it was a very fun process to think about where to put it.
"Sit" that I really wanted to do with quadrupeds lol
It's physically strange because there are no joints on the hind legs, but it's okay because it's cute.
I decorate it in this style at my home.
You can see that the barrel is a propellant tank, which is a friend's idea. .. .. He was inspired
The thruster of the propeller tank and the Zeon mark on the shield have been scraped off, and I was worried about how to handle this.
Work by ひよこのぱぱ