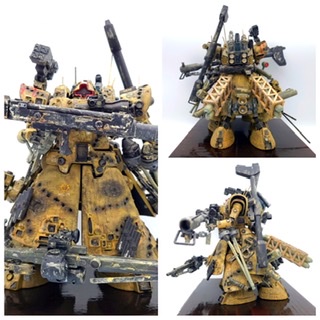 HGUC King of the Desert / Basilisk (Dom): images, work in progress, info work and credits
Made for Orazaku.
An original Dom that respects the Kondo and Kobayashi versions
I mainly mixed and scratched HGUC Dom and old kit 1/100 Dom.
head on.
The concept is "a mobile fortress that can control enemy bases with a single machine".
Equipped with MG Dom's Sturm Faust and old Kit Dom's bazooka.
This is equipped with a sub-arm that uses HGUC Dom, etc., and a machine gun for MG Dom.
Equipped with two swords on the legs.
Equipped with MG Gelgoog backpack.
A propeller tank and sub-leg are installed.
The black cylinder in the center of the back is the I-field generator.
A snake nail sticker is attached after the title of the work, Basilisk.
Weathering was done so that steps were not noticeable.
We are also focusing on bullet holes and weathering expressions with machine guns and bazookas.
A spring is used for the sub leg.
A hidden arm made from leftover parts.
Equipped with a heavy machine gun.
It is an image when a rough shape is made.
It has a very solid form even when viewed from behind.
The skirt is made by cutting out a plastic plate into strips and stacking them in two layers to make them larger.
The cover of the propeller tank was also scratched with a strip plastic plate and a plastic rod.
Work by 魚眼大師
@TycPhnSh on Twitter