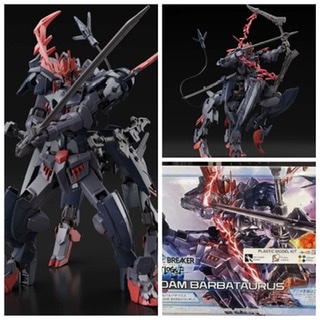 HG 1/144 Gundam Barbataurus, released in January 2022: Box Art, many official images and full info
Description of item
The "Gundam Breaker Battlogue Project", which links Gunpla and games, will be launched worldwide in the summer of 2021!
The original MS of the project will appear in the anime "Gundam Breaker Battlogue" scheduled to be distributed in the fall of 2021.
The original MS is now available as an HG Gunpla series that can be customized just like the game!
Based on Gundam Barbatos, the jet-black Gundam Barbataurus with a bold structure using two Gundam frames!
Twin blades are transformed into hand gun mode. Furthermore, it can be combined and reassembled into a large bow using clear parts, and the pose of pulling the attached bow and arrow is also possible.
The tail blade at the rear of the fuselage is reproduced using lead wires.
The sword that comes with Gundam Barbatos is also included.
accessories
Twin blade
Tachi x 1
Arrow x 1
String effect parts x 1
Joint parts x 1 set
Lead wire x 1
Foil seal x 1
Hand parts x 1 set
Price 2,420 yen (tax 10% included)