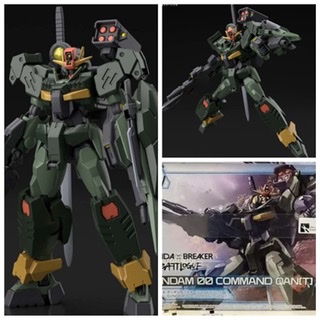 HG 1/144 Gundam 00 Command Qan[T], released in January 2022: Box Art, many official images and full info
Description of item
The "Gundam Breaker Battlogue Project", which links Gunpla and games, will be launched worldwide in the summer of 2021!
The original Ms of the project will appear in the anime "Gundam Breaker Battlogue" scheduled to be distributed in the fall of 2021. The original MS is now available as an HG Gunpla series that can be customized just like the game!
MS customized by adding the elements of Command Gundam to 00 Qan[T].
The stylish silhouette of 00 Quanta has been renewed in deep green!
Comes with a large number of shooting weapons such as missile launchers, heavy machine guns, and arms shields.
Slashing weapons such as the command sword and the double-swinged combat knife stored in the Arms Shield are also included, and not only the coloring but also the military elements have the characteristics of Command Gundam.
accessories
Command sword x 1
Arms Shield x 1
Combat knife x 2
Heavy machine gun x 1
Missile launcher x 1
Foil seal x 1
Hand parts x 1 set
Price 2,200 yen (tax 10% included)