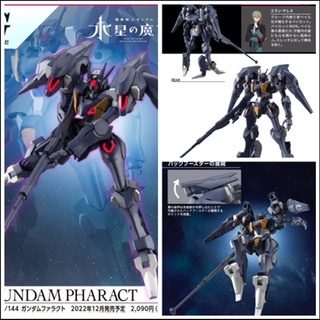 HG 1/144 Gundam Pharact (the Witch from Mercury) release date changed (December 3, 2022 → December 17) official images, full info
Description of item
FP/A-77 Gundam Pharact (ガンダム・ファラクト) is a mobile suit introduced in Mobile Suit Gundam the Witch from Mercury. It is piloted by Elan Ceres.
The Pharact was first utilized in a duel between Elan Ceres and Guel Jeturk. It displayed high performance under Elan's piloting by easily outmaneuvering the Dilanza in low gravity. It was then utilized in a duel against Suletta Mercury piloting the Gundam Aerial in which – despite its high performance – it was ultimately disabled and defeated by the Aerial.
A mobile suit equipped with a large rifle.
The shoulder armor is equipped with a gimmick that deploys the built-in back booster by pushing the tip.
Beam saber grip can be stored by deploying arm armor.
The brilliance of the shell unit is expressed with clear parts, molding colors, and stickers.
The tip of the foot can be folded.
Comes with a large rifle, an expressive open hand (left hand), and a beam saber.
accessories
Large rifle × 1
Beam saber × 2
Hand parts × 1 set
Sticker × 1
Price: 2,090 yen (including 10% tax)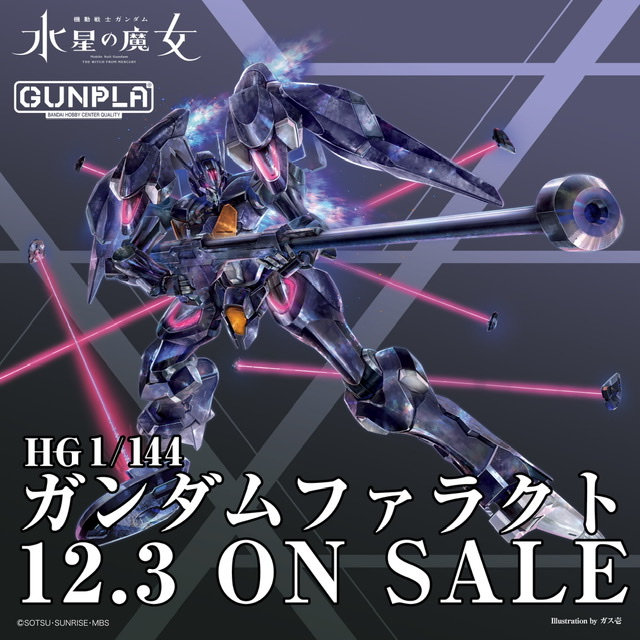 release date changed (December 3, 2022 → December 17)