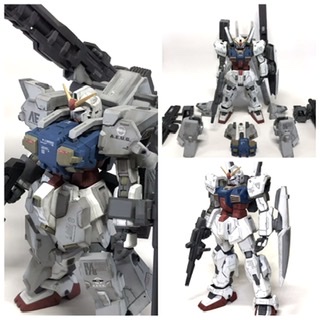 Custom build HGUC Gundam Mk-II Gryps conflict Final Battle Ver. Many images, info and credits
It is MkII without expansion equipment.
The coloring has been changed to Amuro color with the meaning of carrying the test because it is the final battle.
Before the final battle
The backpack and the pipe on the back of the knee have been changed to cords. The molds for each part are erased and added, but the polo potion is only 1 mm longer.
The shield didn't look good in red, so I made it white and gray.
Skiing with decals on the shield
With additional armament.
Fully equipped.
Additional thrusters on the shoulders and two beam cannons on the left arm. Micro missile latch on the chest. Additional armor under the loincloth and below the knee, a large backpack, a missile launcher and a large beam cannon.
It is an image "work in progress"
I finally adjusted from here, but I was thinking about arming with quite a variety of patterns.
Since it is a setting to change the color of Gundam taken from Titans, it was produced from the Titans version of MkII.
Armed is basically made of plastic board and plastic pipe. The missile launcher and large beam cannon are diverted from commercially available ones.
I stretched the torso by 1 mm, changed the shin parts to laminated plastic vans, and changed the line a little.
Additional armor
Enhanced rifle
Two-gate beam cannon
Backpack in the middle of production
Work by 蒼井オニオン
@aoirin on Twitter