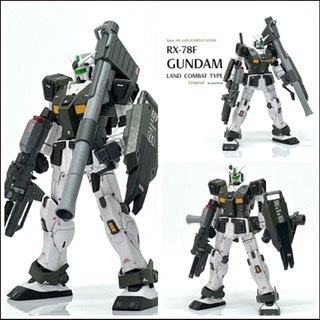 Custom build HGUC RX-78F Ground Battle Gundam: images, info and credits
It is an original MS "RX-78F Gundam for Ground battle" which imaged the RGM-79F Ground Battle GM of M-MSV.
The "RGM-79F Ground Battle GM" is an MS that appears in the M-MSV, which is completely different from the "RGM-79G Ground Battle GM" that appears in the 08 platoon. Although the names are quite similar.
The setting is that it was developed for battles in Europe.
At my house, there was an ORIGIN GM Guard Custom that had been wrecked after removing parts. The head is Sleggar's GM which I made a while ago, and the biggest feature is GM, who was robbed by his Dullahan, a pale rider. It looks cute as it is, so I'll try to reborn it.
The guard custom is similar in design to the "RGM-79F Ground Battle GM", but it is difficult to reproduce because the GM head is removed in the first place. So, I attached the Gundam head of EG Gundam and made it an original machine called "RX-78F Gundam for Ground Battle".
The head has a visor like the ORIGIN version of Polar Gundam and Gundam FSD, but the details are slightly modified. Well, is it something like "The contents are GM, but I chose Gundam Head".
Armed with the beam rifle and shield of Gundam Base Limited System Weapon Kit 003.
Bazooka is diverted from HGUC RX-78-2 Gundam.
Attached shoulder armor to dark green and white two-tone (white remained the molding color).
As usual, brush painting with water-based hobby color.
After inking with watercolors, apply decals and finish with a matte top coat. For green, dark green is used as it is.
It was the original machine "RX-78F Gundam for Ground Battle" created while imagining the RGM-79F GB GM of M-MSV using the ORIGIN version of GM Guard Custom.
The Gunpla, which looked like a wreckage, has been reborn in a cool way.
Work by @gpo144 (Twitter account)