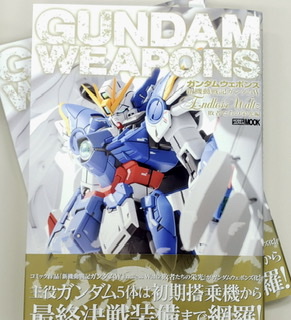 BOOK: Gundam Weapons Gundam Wing EW the Glory of Losers. Sample images, full info content

"Gundam Weapons New Mobile Report Gundam W Endless Waltz Glory of the Losers" Sample magazine arrived!
Complete coverage of major MS including new weapons newly set in comics centered on MG Wing Gundam Zero EW Ver.Ka
Many new examples are also posted for the first time in this book!
Release date is [March 25 (Friday)]
Content introduction
All major MS centered around MG Wing Gundam Zero EW Ver.Ka!
The latest issue of Gundam Weapons features the comic book "New Mobile Report Gundam W Endless Waltz The Glory of the Losers". Focusing on the masterpiece kit "MG Wing Gundam Zero EW Ver.Ka" released in 2020, it covers all major MS including the new armament newly set in the comic.
In addition to the "Endless Waltz" examples published in Gundam Forward Vol.4 and Vol.6, the content is composed of new works that are the first to appear in this book. Please take a closer look at each mobile suit, including the leading Gundam with the latest settings, through three-dimensional objects.
CONTENTS
8 Table of contents
10 The world of "Mobile Suit Gundam Wing"
12 OPERATION METEOR
14 XXXG-01W Wing Gundam ● Kobopanda
22 XXXG-01D Gundam Deathscythe ● Ryunz
28XXXG-01D Gundam Deathscythe (equipped with Ruset) ● Ryunz
32 XXXG-01H Gundam Heavy Arms ● Naoki Kimura
38 XXXG-01H Gundam Heavy Arms (equipped with Igel) ● Naoki Kimura
42 XXXG-01SR Gundam Sandrock ● Yasutaka Tanaka
48 XXXG-01SR Gundam Sandrock (equipped with Armadillo) ● Yasutaka Tanaka
52 XXXG-01S Shenlong Gundam ● Akira Sakai
58 XXXG-01S Shenlong Gundam (equipped with Tawaya) ● Akira Sakai
62 OZ-00MS Tallgeese F ● SSC
70 XXXG-00W0 Wing Gundam Proto Zero ● DAISAN
78 EVE WARS
80 XXXG-00W0 Wing Gundam Zero ● ikepon
90 XXXG-01D2 Gundam Deathscythe H ● Ryunz
96 XXXG-01H2 Gundam Heavy Arms Kai ● Naoki Kimura
102 XXXG-01SR2 Gundam Sandrock Kai ● Yasutaka Tanaka
108 XXXG-01S2 Altron Gundam ● Akira Sakai
114 OZ-00MS2 Tallgeese II ● SSC
120 0Z-12SMS Taurus (Noin dedicated machine) ● Yasutaka Tanaka
128 DUEL
130 0Z-13MS Gundam Epion SSC
140 THE LAST WINNER
142 Imprint
Price: 2,970 yen (tax included)