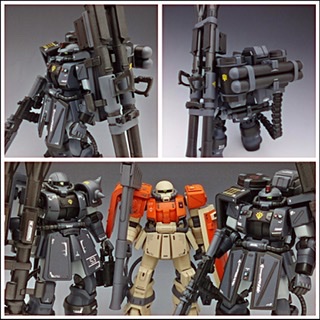 Custom build HGUC Zaku: images, info and credits
This is the 5th Zaku regenerated from junk.
Initially, it was planned to be produced in federal color, but at the end (… Isn't it cooler to paint in gray?), I changed the equipment and added it. I think the result has improved.
The eaves and sensors on the head were lonely if they remained Zaku, and the narrowing of the mono eye rails resulted in the deception that the head became octopus-like (see Federal Zaku).
Also this time, I decided that the double bazooka would lose to the rifle if it was left as it was, so I remodeled it. It might have been good to have a giant bazooka.
It is the usual flow to make a new one from the surplus Zaku parts and manage to use the surplus junk parts even if purchased elsewhere.
Since the MSG's belt and magazine were left over, I carried it on the back and used a square unit.
There is a spare barrel on the waist so that the barrel of the rifle can also be replaced. This borrowed an idea from Zaku Sniper.
Normally, I didn't paint separately in order to finish the painting in a short period of time, but this time I tried to paint separately without any hassle.
It was difficult, but I think it was effective.
With Federal Zaku. I really think I didn't have to use the federal color with this armament
With junk Zaku who extended the skirt in the past.
It was in the state just before painting, but around here (Isn't it cooler to paint in gray?), I started to think that it was a big change
Thank you for watching until the end!
Work by 秦~sin~
@tokihira on Twitter