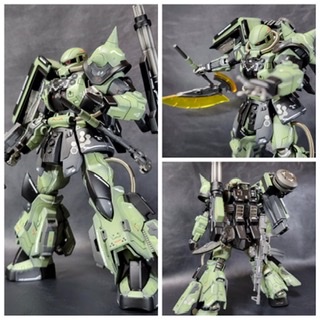 Mixing Build HGUC 1/144 High-performance Zaku: many images, full info and credits
Orazaku event.
I put everything I can do now into it.
I mixed Gouf R35's legs, Hyakuren's arms, high mobility type Zaku and other junks. The ankle is RG Zaku.
I made it with an image that seems to appear in both Gunpla battles and actual series.
Details are improved with streak carving and plastic boards in various places.
This time too, I painted it with a black start-up.
front
All weapons can be mounted. I tried adding a little more decals this time
Hex camouflage in various places is also a proof that this MS has optical camouflage.
back
I like R-type feet, so I made that image even more personal and added various things. It's the one I was most particular about, so I'd be happy if you could see it.
weapon
High-performance Zaku machine gun
In Gunpla battle, it is assumed that live ammunition and beam will not work, so I tried to make it possible to use live ammunition and beam properly depending on the magazine.
This is a beam machine gun and there are 4 magazines including a backpack.
The drum gun is a live ammunition. This is also mounted on the backpack with a magnet.
The magazine rack moves flexibly, and when you replace the magazine, it comes from the rack.
Sealed beam cannon
Beam weapons that are more powerful than beam machine guns
Gatling gun (live bullet)
This is also attached to the backpack, so it can be flexibly moved with the arm.
Heat hawk size
The heat hawk is used for those that do not work with the beam, and the beam size is used for those that do not work with live ammunition.
A wire comes out from the handle and can be used like a kusarigama.
Furthermore, by increasing the output of the beam, the attack power is also increased.
I painted it with clear yellow and clear orange with gradation.
Vernier is Gundam plated silver that is always taken care of.
I personally love this Gundam marker. It is matched with metal parts, but it is a plated key that you can not understand unless you look closely.
Please see the story for the production process.
So if you can't put it on, a little …
The scratches are hidden with decals as shown above and cheated …
Streak carving
After all it hasn't been pulled straight yet. Well, it's natural because it's a freehand carving with a chisel and then a chisel …
Work by 蚊鳥
@Katori_13 on Twitter