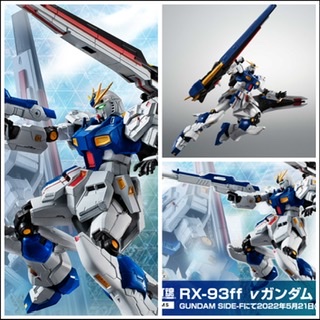 ROBOT Spirits RX-93ff Nu Gundam, GUNDAM SIDE-F, released on May 21, 2022: a lot of new images and full info
In May 2022, "ROBOT Spirit RX-93ff ν Gundam" was released in the area "GUNDAM SIDE-F" that disseminates various information about Gundam in "Gundam Park Fukuoka" and handles goods. increase.
Description of item
The 7th full-scale Gundam in history, the full-scale ν Gundam statue "RX-93ff ν Gundam" is now available from the pre-colored movable figure brand "ROBOT Spirits"!
On the gimmick side, the new "Long Range Fin Funnel" can be attached to the backpack and arm. You can enjoy dynamic poses with a full range of motion.
Overall height about 135 mm
Material ABS / PVC
set content
・ Main body
・ Long range fin funnel
・ Beam rifle
·shield
・ Beam saber pattern
・ 2 types of beam saber blades
・ Replacement wrist left and right 3 types each
・ Funnel connection position change parts for back back
・ Long range fin funnel connection joint for right arm
Price 5,500 yen (tax 10% included) 5,000 yen (tax excluded)
Release date May 2022
* Not available for general distribution. *
This product will be sold on the Bandai Namco Group official mail order site and overseas at a later date.