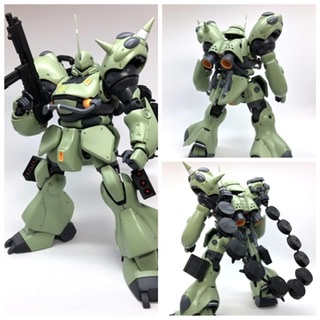 Custom build MG 1/100 Kampfer Ground Battle Type: images, info
With the theme of "I don't need vernier for ground battle type!", I modified all of the 21 main vernier scales.
Vernier on the shoulder and leg armor creates a cover by heat pressing the carved putty.
The chest vernier has been changed. cockpit hatch defense bar, and the lumbar vernier unit has been changed to armor.
For the back waist armor, i have added a mount latch for beam saber, which can be easily attached by sandwiching it with a shotgun latch.
The vernier scale of the fluffy part is set as a hydro jet assuming underwater behavior.
Weapons used machine guns and missile pods from F2 Zaku.
The painting is a solid painting of Gundam color spray.
The interpretation is that the Zeon Earth Army at the end of the One Year War will not be able to afford to apply the original color to the test MS.
Work by k_o_p_a