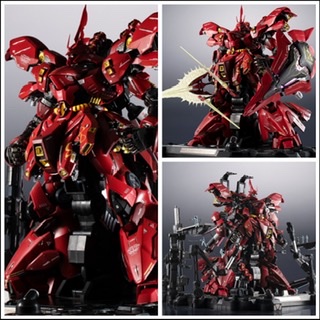 METAL STRUCTURE MSN-04 Sazabi, decided to be released in general stores in December 2022, reservation starts on Tuesday, August 2, price is 189,200 yen: a lot of images, video and full info
In December 2022, "METAL STRUCTURE MSN-04 Sazabi" will be released to the general public.
Description of item
Overwhelming volume and precise modeling. "kaitai-shou-ki", the highest-end brand of pre-colored finished robots equipped with luxurious gimmicks and composed of multiple materials.
MSN-04 Sazabi confronting the previous work RX-93 Nu Gundam appears.
The long-awaited "MSN-04 Sazabi" is now available from the "kaitai-shou-ki"The composite material, which consists of about several thousand parts, can be enjoyed in various forms due to the texture reminiscent of the real thing, the armor deployment gimmick of each part, and the mechanism that gradually deforms. Furthermore, the light emitting gimmick built into the main body and pedestal can further produce a mechanical feeling and a huge feeling.
METAL STRUCTURE "kaitai-shou-ki MSN-04 Sazabi"
Another "top" that arrived after three years. "Dismantling" and "construction" that are repeated in every part. When the hazy contours connect the lines, an unexplored cliff appears.
set content
・ A set of main body
·shield
・ Beam shot rifle
・ Beam Tomahawk
・ Beam saber x 2
・ Various beam effects
・ Funnel x 6
・ A set of pedestals
・ A set of figures (4 types of maintenance soldiers x 2, Char, Nanai)
・ For main unit: LR41 x 3 (test battery included)
・ For pedestal: AAA 4 x 4 (sold separately)
Appearance title: Mobile Suit Gundam Char's Counterattack
Overall height about 430 mm
Material ABS, PVC, die-cast
Type: Products sold in general stores
Price 189,200 yen (tax 10% included) 172,000 yen (tax excluded)
Release date December 2022