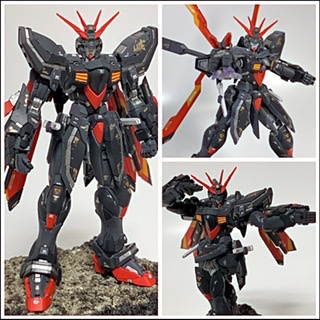 さちヲマスク' s Second Undefeated of the East Godmaster (RG God Gundam) images, info and credits
"Wha, what is that!? A black God Gundam!? Is it true master? Master Domon!?"
What if Domon took a disciple and called himself the Second Undefeated of the East? A work was born from such a delusion.
So everyone, introduce the work, Ready Go! !
The RG God Gundam is just as well-known as it is in terms of modeling and movement, and it's a wonderful kit.
When I thought about how to bring out some originality, the Master Gundam color came down.
The proportions are not modified, and the coloring is changed, and only the carving of the knees is done.
From the front and back, the Master Gundam color has been dropped by making use of the division of RG parts.
The proportions are the same as the kit, but it was a wonderful kit with very strong and detailed details.
Bust up put a gold decal on a dark color. As a result of worrying about the left shoulder, I put a decal of "Destruction"
Master Gundam, familiar fighting pose!
The chest is open and the deadly fingers are painted with a dark purple gradation.
Special move activated!
By the way, I was thinking about setting it in the world of G-Gun, but since Domon appears as Kamiki Sekai's master in Build Fighters Try, it turns out that it can also be set for Gunpla Battle! One grain makes twice as delicious.
On the release date, I couldn't go to buy it due to Obon memorial service, but my brother gave me the one he bought.
Start production! Start with the frame. Since it's a mobile fighter, I wanted it to have a strong frame, so I painted it with dark iron just like the T-800. It looks good if you paint it separately, but it will not be visible, so I will omit it. because of rationalism.
Each part is painted separately and assembled. The dark iron frame is a good accent.
I wanted the red to be vermilion, so I mixed the shine red with the fluorescent orange. Mix fluorescent orange and fluorescent pink with red for better color development.
All parts assembled. The black eyes are gray, but the color balance is good. From here, inking with enamel metallic gray and marking pasted.
The final step, matte top coat painting!
Complete!
The matte top coat gives each color a subdued, subdued feel.
Work by さちヲマスク
@QaoVq on Twitter