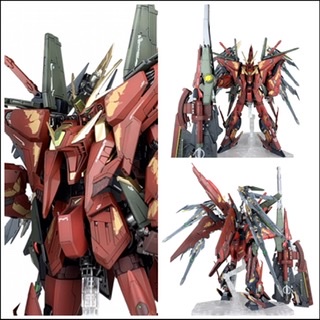 ワッキー's Mixing Build HGUC 1/144 RX-105/SB XI GUNDAM SOL BLAZE: many images, full work description and credits
RX-105/SB XI GUNDAM SOL BLAZE
Ξ Gundam Solblaze
Based on the concept of "Ξ Gundam that only you can make", it was produced by mixing the main body balance, original weapons and backpack!
The reason why the MS color is based on red is to make a pair with the Penelope I made before, which was a blue color scheme.
It took about a year and a half from the start of mixing to the completion, but I managed to complete it, so if you'd like, I'd be happy if you could take a look at the additional photos and the production process
Photo below the full description
I think that you can understand the shape of the main body and backpack better!
It's hard to understand, but red is painted with a total of three colors
I paid a lot of attention to the volume of the backpack so that not only the front view but also the back view would be perfect!
head on
I think you can see how huge the weapon is by looking at it like this
Its length is actually about 48 cm in total
From the side!
In this shot, you can see that the main body has a beautiful S-shape.
I also made sure that the volume of the backpack is different not only on the sides but also on the back!
No more weapons! First of all, a front-facing
The cut where Lane looks up at Penelope in the flash Hathaway play is very impressive, and it's an imitation of that scene lol
I think that the gigantic feeling of this Ξ Gundam is really conveyed!
From an angle!
I tried my best to make it look even more brutal by making the eyes glow
Single weapon part 1
A photo of the weapon itself.
The EX-S Beam Smart Gun and Deep Striker Argama Cannon are the main parts, and various junk parts are served there.
Weapon single item 2
Angle from behind!
Although I was able to divide it to some extent, each part was still large, so I had a hard time processing and painting
Now let's move on to the production process
At the beginning of mixing
As soon as the Ξ Gundam was released, I started mixing, so the main body's mixing itself was already finished for a year.
A long battle between backpacks and weapons begins here
2nd stage
Around this time, I was participating in a competition, so my back was still compatible with the striker pack as part of the regulations.
However, since Maneuver Striker has passed as it is, I can't get rid of the desire to mix like the main body, and I will enter a slump for a while from here.
Final stage (before discarding surface)
At the exhibition, the Ξ Gundam combination was suddenly decided, and when I was thinking about it, I discovered another work's unarmed, and I came up with a good idea for a backpack, and it took shape all at once!
From here, I entered the work that I hate the most when attaching a plastic model, surface treatment and digging
Next is painting!
After painting the frame
I used my favorite Gaia star bright iron for the frame!
Even though it was HG, there were quite a few frames, so I remember thinking about painting the exterior was a hassle and I couldn't help it.
exterior paint
It was barely a cat's hand lol
Moreover, except for the metallic color, it was all painted black, so it took a lot more effort than solid painting, and it was insanely difficult.
All characteristic hexagonal molds are masked and painted separately! This is hard again
It was tough to start up after spraying black again
Maneuver striker part
I couldn't help but feel that it wouldn't suit me if I painted it in the same color as the main body, so I thought it would be nice to paint it in gray, like the final form of Devil Gundam's bone wings.
Metal parts are embedded in each round mold part.
Finally a two-shot photo with Penelope Corelepus!
It took me two and a half years to do this
I feel like I'm getting better at processing and painting than when I was Penelope Corelepus, and I felt growth lol
This work will be exhibited at the exhibition Modefes 2022 held at ATC Hall in Nanko, Osaka on October 29th and 30th! If you can come, I would be happy if you could come and see it!
It's been a long time, but thank you for watching until the end!
Work by ワッキー
@OOKIDOHIIRAGI on Twitter
wacky2121 on Instagram