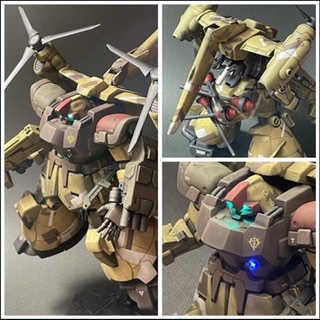 シブ's HGUC 1/144 Dom Tropen long-distance attack type custom: images, full description
Finished in specifications with increased mobility for operations in the desert.
Armed with a Jesta Cannon Beam Rifle and a Gouf Custom triple gatling to cover medium distances, and a Sturm Faust on the back with four heat knives.
The tiltrotor is set in the backpack, balanced with the Zeta Plus tail unit, and equipped with the Sturm Faust.
I didn't like Domtropen's crest, so I cut it. . The crest is slightly overhanging and blocks the view, but in order to increase the light blocking effect,
The mono-eye lights up and moves left, right, up and down.
Of course, the diffuse beam also shines.
rack of heat knives
Work by シブ