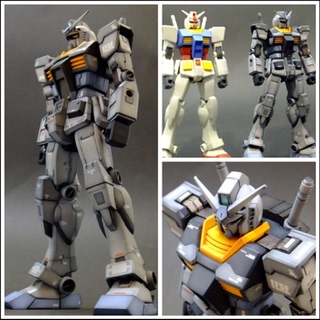 Beautiful realization based on Entry Grade 1/144 RX-78-2 Gundam: images, info and credits
Based on the details of MG3.0 style, I tried to make it by practicing streaks,
EG Gundam.
In this Gundam, based on MG3.0 style details
I'm practicing for stripping, but I used plastic plates in several places to make parts
changing shape.
・Change the shape of the shoulder armor by scraping, scraping the upper part of the shoulder and creating an internal frame
・Increased knee armor
・ Change the angle and size of the slipper part of the foot
・ Change the height of the cockpit hatch, etc.
The back view is also the main work.
The panels are painted separately.
The backpack part is based on the original parts and remade with a plastic plate.
There are parts where I wish I could have made the details more precise, but I think it turned out pretty cool.
One around the waist.
The cube part attached to the waist armor was originally angular.
Since it was a part, the shape was changed by shaving the lower and outer sides of the left and right.
The left is unassembled.
It will be a comparison image of the whole body.
Work by @ sararan ch on Twitter