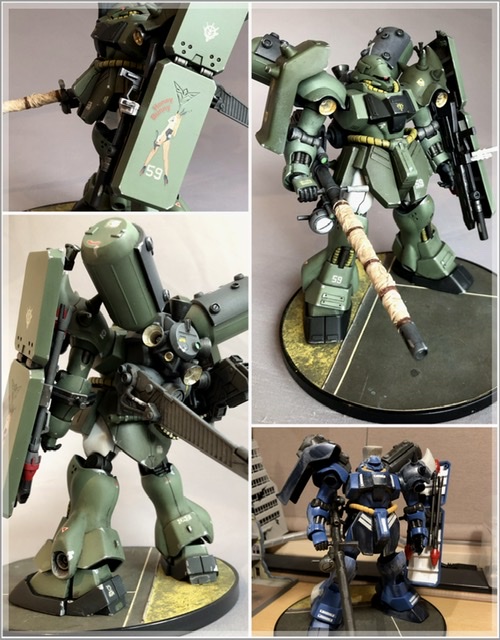 ぱんきち's HGUC 1/144 Geara Doga Heavy Armed Type Neo Zeon custom: full images, full info work and credits
This renewal is due to the return of the box head to "Kai" at the time of completion of the previous work "Geara Doga Kai", and the "replacement" to the newly created normal head.
In addition, additional details, additional decals, additional painting, and additional weathering were applied.
The main changes are as follows
I was satisfied with the initial completion, but I painted the parts that were not painted separately again. The cannon, backpack, each thruster, etc. were additionally painted separately.
As mentioned above, the head has been changed from "box head" to "normal head". I feel that the normal head suits the heavy armor type better.
Also, this time, I wrapped a "thermal jacket" around the cannon to reproduce the setting image.
As introduced in the story, the material is so-called disposable resin gloves "nitrile gloves". I always use it for painting and enamel washing, but I thought, "Isn't it possible to use this?"
You can add wrinkles that make you crumpled, you can fasten it in place, and you can even paint on it.
The belt that binds the jacket is a line tape painted with a marker.
It's a heavy armored type that swings the cannon around, but I thought, "Isn't it weak in close quarters?" The E-pack is wrapped with a bandage and is a set of two.
The smoke discharger attached to the inside of the shield looks dull if it's from a kit, so I made a whole new one out of plastic.
Since the connection part is exposed on the spare magazine side of the E-pack wrapped in a set of two, I carved gold line tape to make it look like a connection terminal.
I also prepared a small story on the back.
The beam ax that was attached to the waist was changed to "Gelgoog Naginata" because it interfered with the cannon.
A new "back monitor" sensor has been added to the backpack.
I also added a sensor to the thin tube just above the radome of the cannon.
The backpack antenna has moved from the last time and changed to a short antenna.
By the way, the left hand is the "Left hand of Marasai"
The cannon wrapped in nitrile gloves and painted with Mr. Weathering Color "Grayish Brown".
Feel better than you think.
Work by ぱんきち