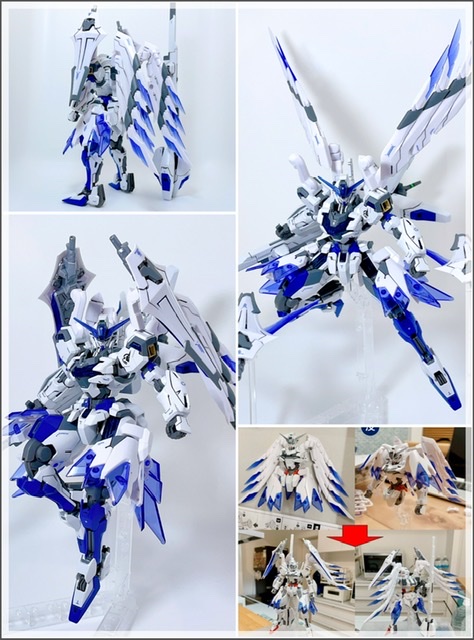 Custom build HG 1/144 Gundam Calibarn Celesta: many images, info about customization and credits
From the Modeler:
Celesta is a word that means "sky", "blue sky", "sky blue" in Spanish, and it is also used for female names.
I thought it was perfect for this MS, so I gave it this name!
The base Calibarn has hardly been tampered with, and this time it has been remodeled with plenty of Kotobukiya kits.
Rainbow luminescence and parmet score 5 were also nice, but this time I tried painting with the image of permet score 6 specifications in blue. (I haven't seen the anime much, so I'm sorry if the settings are wrong)
The basic tactic is close combat with a beam saber that takes advantage of its high mobility.
The smoke gray clear parts are painted in clear blue, but I wonder if it was a little darker
I see people who have modified the light emission on X (old Twitter) etc., but I do not have such technology
There was a plan for Ex Armor E to be equipped on the shoulder, but I thought it would interfere with posing, so I settled on the waist.
It was easy to mix because the 3mm axis is in a good position for the thighs.
I thought it was just a simple assembly, but just in time, Kotobukiya released wings and bits that seemed to suit me, so I ended up mixing them
I think that the blue and clear blue with white as the base color create a cool and mysterious work.
Thank you for watching until the end!
Work by まっちゃん工房 aka MatsuFactory224 on Twitter