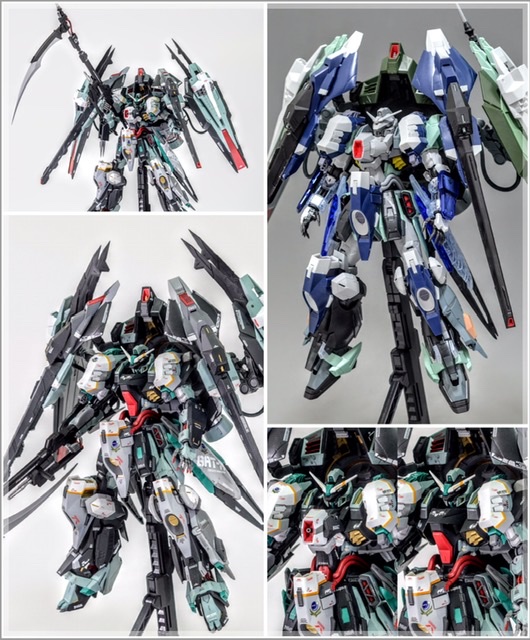 Heavy Mixing Build: Full Mechanics 1/100 GAT-X252Nv Forbidden Gundam Valac Aqua Fortestra Type: full images with full description and credits
Full Mechanics 1/100 Forbidden Gundam modification "Forbidden Valac (equipped with Aqua Fortestra)" has been completed!
I incorporated parts such as AOZ system and duel based on the concept of full armor + underwater battle equipment.
setting
A strengthened and modified version of Forbidden that has added latches for changing equipment to each part of the fuselage to increase its versatility.
The Aqua Fortestra equipment can demonstrate the same performance as the Forbidden Blue series underwater warfare MS.
By replacing the equipment, it can be converted to space specifications.
Assault form.
The increased armor on the chest is placed so that it does not hinder the transition to assault mode.
The beam cannon also has two guns, upper and lower, and can be deflected in the same direction.
It has an armament configuration that is reminiscent of the Abyss Gundam, such as the 580mm double-row phase energy cannon "Scylla II" equipped on the chest armor, and the multiple beam turret added to the Geschmeidig Panzer.
The railgun "Ekzaan Kai" is a modified version with a shield booster added to the base.
The main weapon is gun size (gun sickle).
A compound weapon that combines a heavy scythe, Nidshog, and a long rifle.
Instant response from shooting to close-range hand-to-hand combat is possible.
The chest augmentation armor is removable.
Forced evacuation is possible when hit by bullets, etc.
Light chest specification with increased chest armor purged (light combat mode)
All of the underwater equipment (parts with yellow lines) are removable, so it will be possible to make space specifications later.
It is a setting that was developed in a different lineage from the pure underwater warfare Forbidden such as Forbidden Blue and Vortex.
Demon of the deep sea! !
The coloring is based on the color of the base machine and is based on the image of the trial machine.
This is the initial state of mixing.
At this time, the parts of Forbidden such as the head and limbs were the same, but in the end, everything except the body and backpack was made from a different aircraft.
This is the second mixing.
The legs are replaced with parts from Duel and Silver Bullet.
Third time.
The arms are Barbatos, and the head is based on Duel's parts, mixed with Aquaham Bravi parts.
This is almost the final mixing state.
The entire length of the abdomen was increased by transplanting parts from Barbatos.
I worked hard to create a shape for the chest augmentation armor that would not interfere with transformation and would not deviate from the overall design.
The concept this time was a final boss-like Forbidden.
I also incorporated parts from the archenemy Duel to create a design that would not feel out of place as an allied MS.
Work by morish/もりっシュ