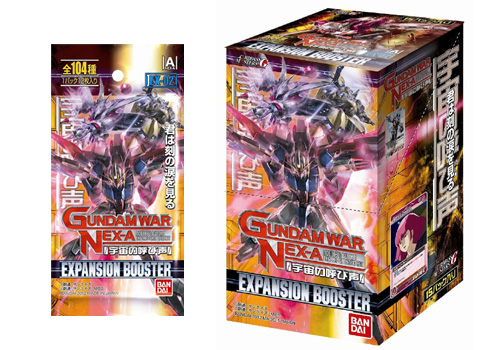 Gundam War Nex-A Set #2 Expansion Booster "Sora no Yobigoe" on Sale!
FULL info & Links
Booster Expansion Set #2 "Sora no Yobigoe"
Date: Saturday, August 25, 2012
MSRP: ¥330 a pack
12 cards per packPush set #2 "Toki no Kodo" to new heights with this expansion booster!
The third faction in Zeta Gundam, Haman's Axis, is here with Zeta G0signs and new Red cards.
New Command cards combine with Toki no Kodo's "Forever Four" and "Newtype Power".
This set also introduces the "Collectable Rare" rarity, with character cards by Hiroyuki Kitazume, plus puzzle card units Zeta Gundam, Qubeley, and The O by Naochika Morishita!
More info is available on the Gundam War Nex-A official site.
【Related links】