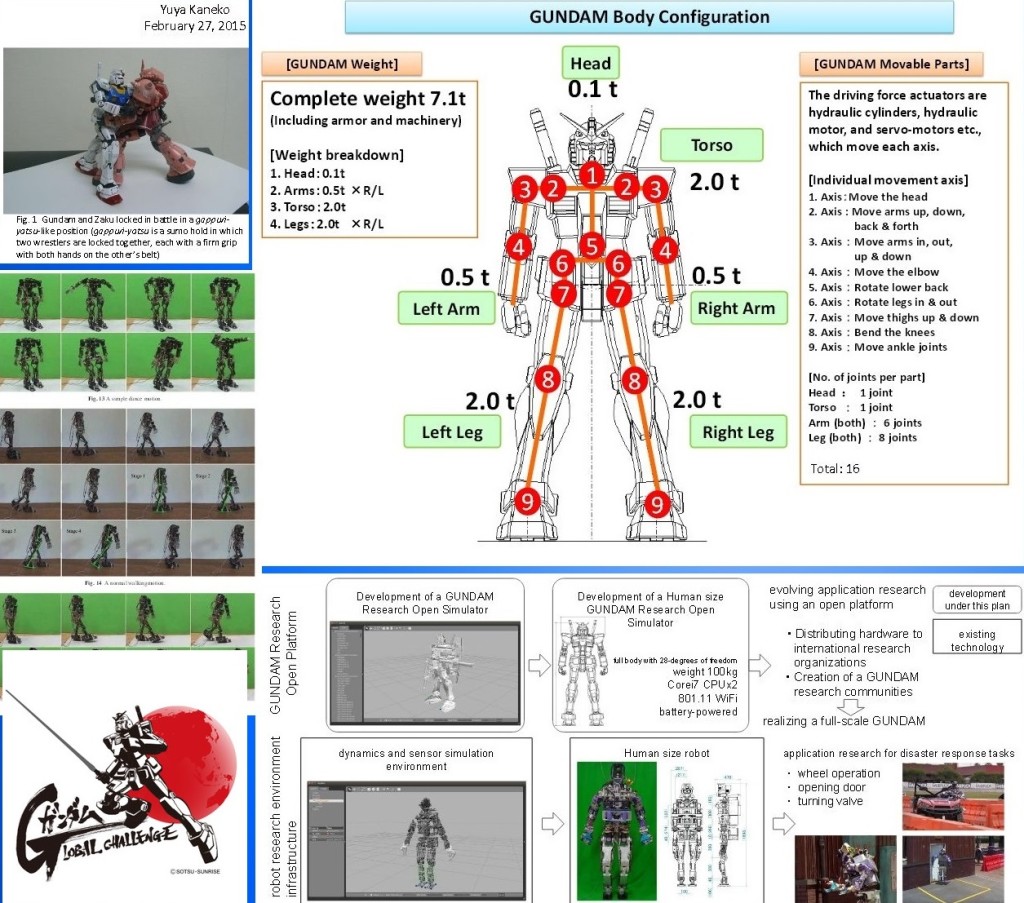 Gundam Global Challenge Winners Aim to Make Life-Size Statue Move:
Yuya Kaneko, Ming-Hsun Chiang, Yoshimitsu Kihara, Kei Okada PROJECTS.
DOWNLOAD OFFICIAL PDF files Projects
The Gundam Global Challenge is a competition that tasks individuals with making the 18-meter-tall Gundam statue on Tokyo's Odaiba island move in the year 2019. Proposal submission opened last year and four individuals' plans were selected.
Yuya Kaneko of the Nara Institute of Science and Technology proposed that both the life-size Gundam and the life-size Zaku would battle, specifically in a gappuri-yotsu sumo wrestling pose. Once the two robots are engaged in this pose, they could move together as a quadrupedal unit, much easier to control than a bipedal unit.
Professor and engineer Ming-Hsun Chiang submitted an energy-efficient design to create balanced legs that would allow the Gundam to walk.
ROBOFUTURE robotics engineer Yoshimitsu Kihara also proposed a walking system for the Gundam. This idea utilizes a "walking stage" with rotating podiums and assistance devices to keep the giant robot from falling.
Associate professor Kei Okada at University of Tokyo's Graduate School of Information Science and Technology is proposing a software interface that would allow visitors to make the Gundam move themselves.
Gundam creator Yoshiyuki Tomino, Waseda University vice president Shuji Hashimoto, Chukyo University department of mechanics and information professor Pitoyo Hartono, film producer Katsuyuki Motohiro, and creative and technical director Seiichi Satō judged the submissions.
The project is currently accepting a second round of applications to expand upon the the four above proposals. A basic plan will be announced next fall followed by design execution in 2017. The staff will make continued adjustments through 2018 with final results scheduled for summer 2019.
The project will mark the upcoming 40th anniversary of the first Mobile Suit Gundam anime series.
via animenewsnetwork.com for english info