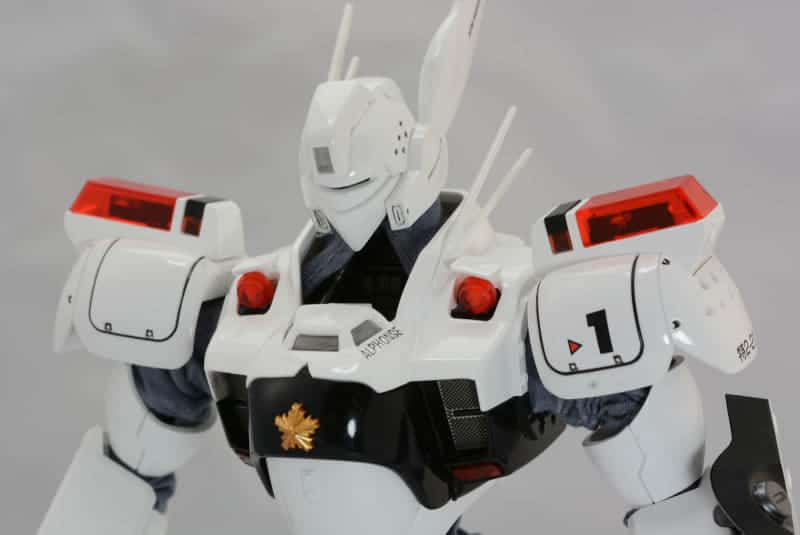 ロボ道 イングラム1号機」レビュー
The ROBO-DOU Ingram Unit 1 collectible figure includes many interactive features to increase playability.
The covers of emergency police lights on both sides of the collar and right calf's side cover can be opened, and the hand revolver cannon can be stored inside the right calf.
The right hand's wrist can be extended to reach for the stored revolver cannon.
The cockpit covers can be opened to reveal the cockpit inside, where pilot figure (Noa Izumi) can be seated, the cockpit seat can be elevated to have the pilot's head to appear at the neck of Ingram, and the windshield can be opened up at the neck.
Dual color red/yellow LED light-up features with alternate flashing effects are installed in the emergency police lights on both shoulders (requires AG1 battery x 4pcs / batteries not included).
Price: 17,000 yen (excluding tax)
Release date: June 30, 2020
Equipment includes a hand revolver cannon, stun stick in extended form, stun stick in retracted form, a riot gun, and a shield for left forearm (stun stick in retracted form can be stored inside).
The Ingram also comes with interchangeable parts including a face piece with the faceguard up, a variety of hands in different poses, and a ROBO-DOU action stand.
Mobile Police Patlabor
ROBO-DOU Ingram Unit 1
Product Specifications:
1/35th scale
approximately 23cm tall articulated figure
Materials used: ABS, PVC, POM, ZINC ALLOY (Joint covers uses fabric)
Nearly 50 points of articulation
LED light up features with flashing effects at the emergency police lights on both shoulders (requires AG1 battery x 4pcs / batteries not included)
Covers of emergency police lights on both sides of the collar can be opened
Right calf's side cover can be opened (hand revolver cannon can be stored inside)
Right wrist extension function
Cockpit covers can be opened
Cockpit seat can be elevated
Windshield can be opened at the neck
Accessories:
Hand revolver cannon
Stun stick (extended)
Stun stick (retracted)
Riot gun
Shield for left forearm (retracted stun stick can be stored inside)
Interchangeable face piece where the face guard is up
Interchangeable hand pieces (relaxed hands x 1 pair, opened hands x 1 pair, fists x 1 pair, right hand for holding hand revolver cannon, right hand for holding stun stick, right hand for holding riot gun)
Pilot figure (Noa Izumi)
ROBO-DOU action stand