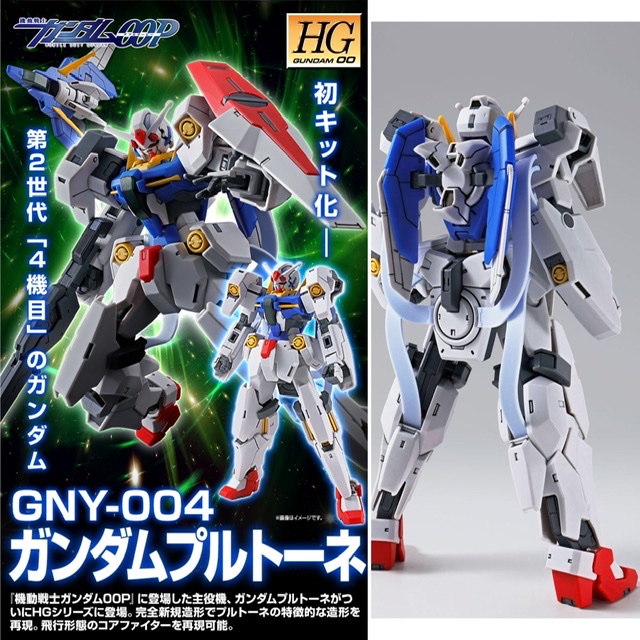 HG 1/144 Mobile Suit Gundam 00P Series: Gundam Plutone by Premium Bandai
Sales price 2,420 yen (tax included)
Acquisition points 24P
Reservation acceptance started 19:00 on June 9, 2020
Delivery date Scheduled to be shipped in September 2020
From "Mobile Suit Gundam 00P", the second generation Gundam prototype No. 4 equipped with GN drive-GNY-004 Gundam Plutone-has been made into a completely new model.
Reproduced coloring in molding colors.  It is possible to reproduce the core fighter in the state built in the MS and the flight form by replacing the parts.
-Reproduce the characteristic airframe form with completely new modeling!
-Faithfully reproduced the form and details of the body with built-in core fighter.
Head
-Reproduce the characteristic head part with two slits in the mask, which inherits the design line of the first generation Gundam "O (O) Gundam".
Chest
-Faithfully reproduced the body shape equipped with the GN drive separation system including the cockpit.
GN drive on front cockpit and back can be attached and detached.
Arm
Equipped with multiple joints and a drawer gimmick, it is possible to deploy armor on the elbow.
-In addition to the clenched wrist parts, left and right open hand parts are included.
GN Vernier
Reproduce the "GN Vernier" on the shoulders and waist with a yellow molding color.
GN condenser
Precisely reproduce the waist "GN condenser".
GN particle supply code uses a flexible soft material.
Knee
Reproduce the GN beam saber removable gimmick inside the knee armor.
Also, flexible movement is realized by multiple joints and drawer gimmicks.
-Reproduce the core fighter!
-Reproduce the flight form by replacing the cockpit parts and the back GN drive attached to the MS body with the attached core fighter dedicated block.
∙ 3mm hole allows for action-based display sold separately.
-The special armament is three-dimensionalized with new modeling!
Includes large-diameter GN beam rifle, GN beam saber, and GN shield.
GN shield reproduces characteristic coloring with molding color
Attached armament: GN beam rifle / GN beam saber / GN shield