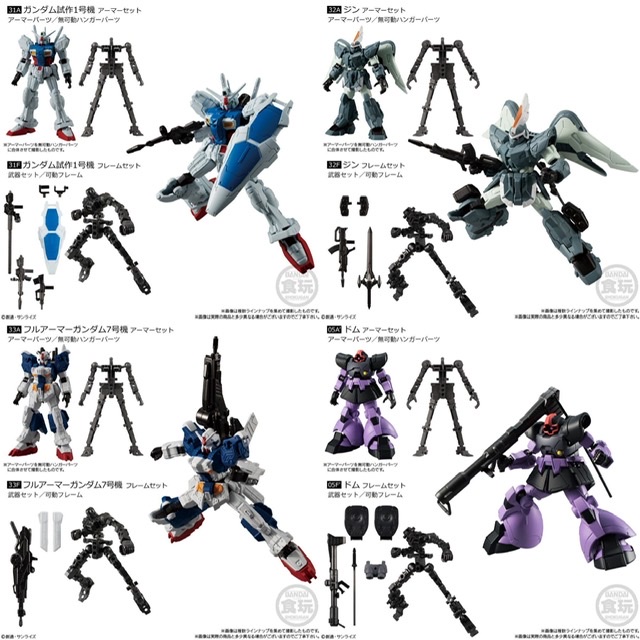 The eleventh edition of the Mobile Suit Gundam G Frame, a high-detail movable Gundam figure series that will be completed by attaching armor to the frame, will be released in October. The price is 500 yen each (excluding tax).
This item is a high-spec Gundam figure that is completed by attaching armor to the frame.  A wide range of motion is secured by the frame mechanism, and a gimmick that can display even a single armor is built in.
The 11th edition includes "Gundam Prototype 1", and "Full Armor Gundam 7".  In addition, the highly popular "Dom" in the second installment will be reappeared with replacement parts for "Rick Dom".
In Premium Bandai, we have started accepting reservations for "10 pieces", which includes all types of this bullet, so check it out as well.
Mobile Suit Gundam G Frame 11
Price: 500 yen each (excluding tax)
Release date: October 2020
set contents:
-Colored model (8 types in total)
Gundam prototype No. 1 armor set (armor parts/non-movable hanger parts)
Gundam prototype No. 1 frame set (weapon set/movable frame)
Ginn armor set (armor parts/non-movable hanger parts)
Ginn frame set (weapon set/movable frame)
Full Armor Gundam Unit 7 Armor Set (Armor Parts/Non-movable Hanger Parts)
Full Armor Gundam Unit 7 Frame Set (Weapon Set/Movable Frame)
Dom armor set (armor parts/non-movable hanger parts)
Dom frame set (weapon set/movable frame)
● 1 chewing gum