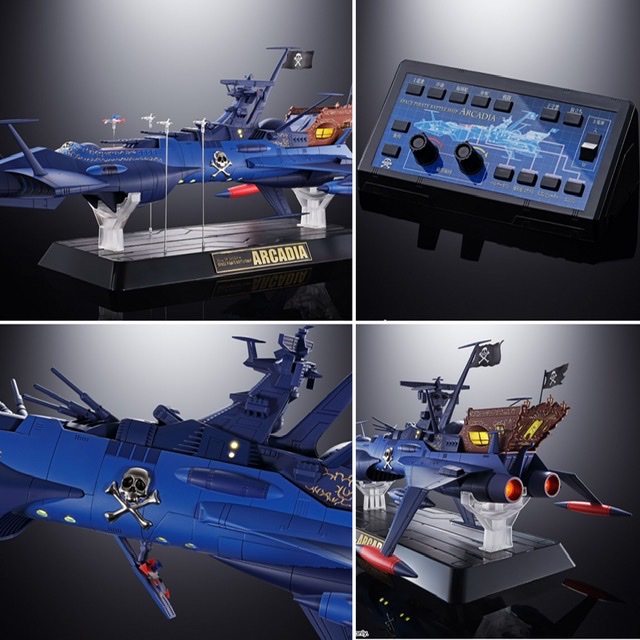 The strongest space pirate battleship Arcadia, launched in the S.O.C. Series
The space pirate battleship Arcadia that appears in the space roman monument "Space Pirate Captain Harlock" is a powerful alloy with a total length of about 430 mm, making it a superalloy soul!
The characteristic style hull is reproduced with beautiful sculpture and painting expression.  Equipped with a speaker and a voice IC, seven songs in the play, including the theme song "Captain Harlock" sung by Ichiro Mizuki,
Harley's voice actor, late Makio Inoue's valuable speech is recorded from the TV series sound at that time.  Reproduce the romance of the universe by playing in combination with the sound effects in the play!
This is an ultimate item that is packed with gimmicks unique to the Arcadia, such as the light emission of each part of the hull and the development of the "impeller" at the bow.
The signal lights on both sides of the bridge will flash red with the LED.
The port side opens and closes, and the central computer inside emits light.
2 turrets can be turned by operating the infrared remote control!  Seven in-play songs, Harlock lines, and sound effects will be heard!
Includes 1 shipborne Cosmo Wing and 3 Space Wolfs.
Equipped with a gimmick that allows the "angle" to develop from the bow!
LED lights on four light sources on the port side and eight on the ship's bottom!  The lower hatch of the ship opens and closes.  Can be equipped with a carrier-based aircraft.
The window of the stern, which emphasizes the image of a "pirate ship", illuminates with LED fluctuations.  The two engine nozzles also emit light with different strengths according to the lines and sound effects.
The theme song "Captain Harlock" song: Ichiro Mizuki, insertion song "Susarai no Funauta" song: Columbia male voice chorus, ending song "We're Traveling" song: Ichiro Mizuki, and 4 other BGM songs in the play  !!
Captain Harlock's voice: Makio Inoue's dialogue voice and sound effects in the TV animation are also installed, and music, dialogue, and sound effects can be freely combined and played from the built-in speaker.
■ Product specifications
Overall height: about 430 mm
Material: die cast, ABS, PVC
■Set contents
・Arcadia main unit
・Display base
・Car carrier Wing Cosmo Wing
・Spacecraft Space Wolf x 3
・Remote control
・AAA battery (AAA) x 5 (with test battery)
November 2020 – Price: 39,000 Yen