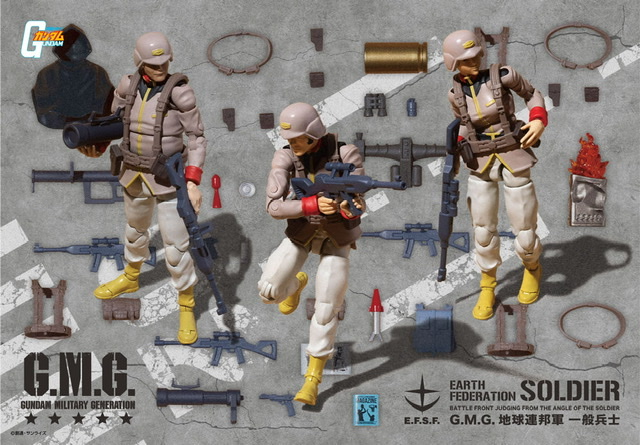 P-Bandai Gundam Military Generation Earth Federation Soldier: Full info
A new mobile figure series "Gundam Military Generation (G.M.G.)" focusing on "Soldiers" has been newly released from "Mobile Suit Gundam"!
With the high support of Gundam fans, military fans, and figure fans, the second installment has already arrived.
Following the previous bullet, we have a lineup of 3 types of general soldiers of the Earth Federation Army, two types of male soldiers and one female soldier of different body types.
The height of the painted figure is about 10 cm (1/18 scale).
You can respond to various poses by moving the whole body.
General Soldier 01 includes optional handguns, optional rifles, bazookas, and ponchos as optional parts.
General Soldier 02 comes with optional grenade launcher, ammo and rucksack as optional parts.
The General Soldier 03 comes with optional parts such as a land mover, Zaku Machine Gun cartridge case, and binoculars.
A wealth of optional parts can be used by other soldiers (sold separately), so the more you collect them, the more you can reproduce the original soldiers.
From a military perspective, you can create a wide range of situations from everyday soldiers to battle scenes.
further!  Bonus parts are included in each product, and you can recreate the soldier's rest time by purchasing 3 types.
Among the Gundam figures with the number of stars, a full-scale action figure "G.M.G." that is a close-up of "unnamed soldier" instead of a famous soldier.
* It is a set sale product that you can purchase three general soldiers 01 to 03 [with special benefits] together.
* For Premium Bandai and Megatreshop, 3 types of special "face parts for changing facial expressions" are also included.
G.M.G. 機動戦士ガンダム 地球連邦軍一般兵士セットボックス
Sales price 13,134 yen (tax included)
Acquisition points 131P
Start accepting reservations September 3, 2020 10:00
Delivery date Scheduled to be shipped in February 2021
set content
Pre-painted movable figures (3)
Replacement head (3 types)
Hand parts (12 types)
Various accessories (34)
Product material
PVC, ABS, POM
Product size
Height about 100 mm
Number of orders accepted
Up to 5 per person
*5 can be purchased for each order.
Product handling
Megatreshop, Premium Bandai limited
*Benefits cannot be sold as a set at other general retail stores.
*The photo is under development.
Please note that the design and specifications are subject to change.
*This product cannot be purchased at the same time as other products.
*We cannot accept any cancellation after ordering.
*Delivery date may be changed due to production reasons.
*This product has a limited number of preparations. When the number of preparations is reached, the order reception will be terminated early.
You may get it.
*If there are many requests, we may change the delivery time and place an order again.
*This product may be sold overseas.
*The actual product may differ slightly from the photo.
*The colors in the photo may differ slightly from this item.